How to rank higher on Google in 10 simple steps
Webtraffic Experts
Let's be honest – you want to be on the first SERP (Search Engine Result Page). Anything less than that means that you are wasting the potential for high-quality traffic to reach your website. But how to rank higher on Google?
The most important step to improve your Google search results position is on-site SEO. The good news is – this is also the easiest part of the whole SEO fun and you can do it yourself, without any need to hire a professional SEO advisor or agency.
In this guide, you will find out how to rank higher on Google and drive more organic visitors to your website for free. If you apply the strategies listed below to your website correctly – you will start seeing results within days.
First things first
In order to track your SERP results progress, you need a tool that will allow you to check your current results and compare them to results you will see after you apply any changes. You can use any SERP checker but we recommend the free SerpRobot.
What is onsite SEO?
Onsite SEO ensures that your website is optimised for search engines. If you adjust certain elements of your website so that the search engines could easily understand your content – you can be 100% certain to rank higher on Google quickly.
How to rank higher on Google in 10 steps?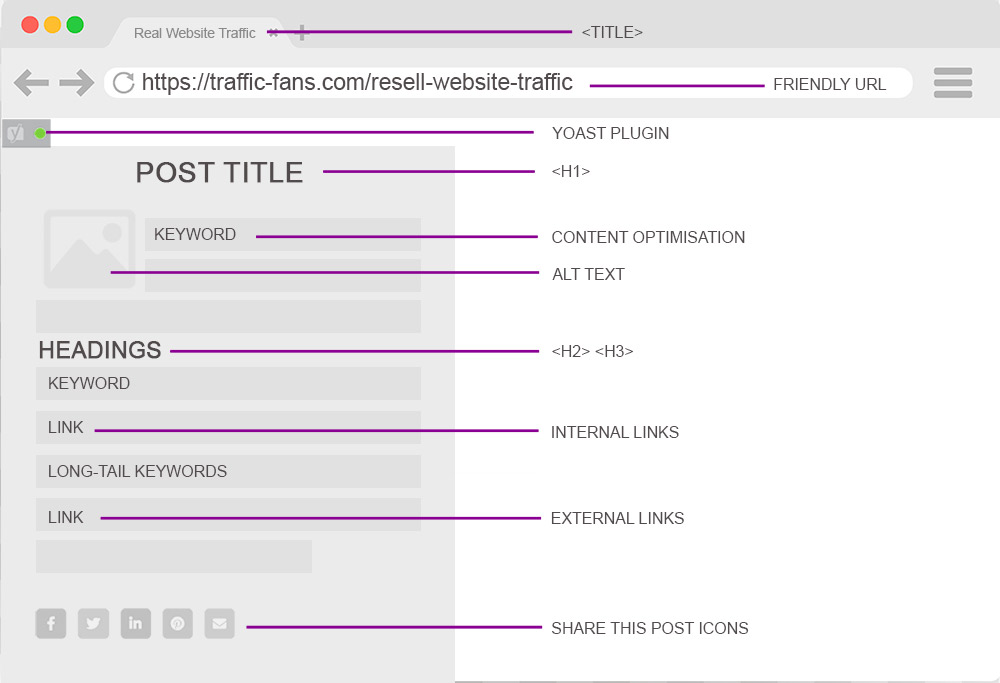 1. Domain name and friendly URLs
It isn't a secret that an informative and catchy domain name is crucial to a successful start of your online journey. If you're already running a website, switch to friendly (short) URLs asap – if you haven't done so yet. Easy to read URLs will help Google and other search engines index your website correctly.
For example: it's a lot better to use www.traffic-fans.com/resell-website-traffic/ URL instead of https://traffic-fans.com/prod?124463.html
2. Page title and brief description
Page title and description are the elements search engines see first when visiting your website. This is also what users will see in their search results and it's what will help them decide if it's worth visiting your website.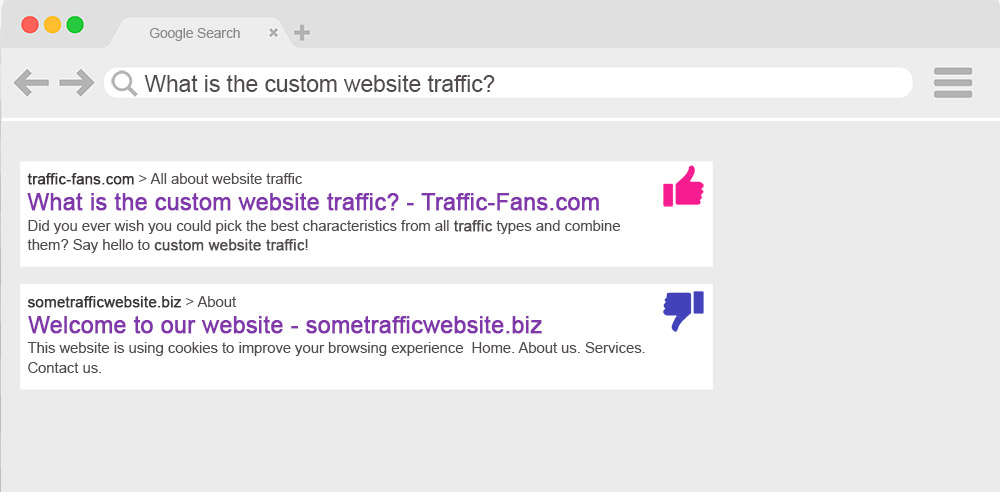 How to make the page title and description work in your favour?
The title should not exceed 60 characters and it is best to keep the description around 150 characters.
The description should contain the keywords you want to target but it's important to not overuse them. The description should briefly explain what the destination page is about.
Spice up your description with a colourful icon or two! It will give you a better chance to be chosen among other search results – even if your page is below the top few results.
3. H1, H2 and H3 tags
"H" stands for Headers. A well-optimised page should contain only one H1 tag and a couple of H2 and H3 tags. H1 is usually the same as the page title but doesn't have to be exactly the same.
To understand the correct use of the headers, it's best to compare them to a table of contents of a book. H1 tells what the page is about, H2 can be compared to book's chapters and H3s serve as additional sub-headings within the chapters.
Use your focus key-phrase in headers
Headers will also split the content of your page into smaller parts making your text easier to read.
4. Content
Unique, interesting and valuable content is the centrepiece of your SEO activity. Those 3 characteristics of your content are its most important elements.
How long should a post be to rank higher on google?
Recent studies suggest that long content tends to rank higher compared to short content. The absolute recommended minimum is 300 words but the more details you include in your post – the better. We recommend writing at least 1000-2000 word posts and splitting the post into multiple sections, using H2 and H3 tags.
Remember to update your content regularly to keep it fresh. Going back to your old posts is a good practice also because it is an opportunity for you to remember what you created in the past and to add new internal links to your newly created posts.
If you are not running an expertise blog – consider starting one.
Why you should start blogging?
Blogging will:
keep your website fresh,
let you use more internal links and
keep visitors on your website for longer,
encourage search engines to index your website more often,
give other sites more reasons to link to your website,
and will help you target long-tail keywords.
5. Using long-tail keywords
Long-tail keywords are simply more specific, less common and longer keyword phrases that visitors are more likely to type in when they search for something. They are super-valuable because it is much easier to rank for long-tail keywords than for common keywords. That's simply because fewer websites are targeting an identical long-tail and so you have a better chance to rank higher on Google for it.
You can use Google Keyword Planner and Ubersuggest to research your long-tail keywords.
When searching for valuable keywords, look for those with low competition and high search result. To have a better chance at ranking higher – choose long-tail keywords with a low volume and low SD (SEO Difficulty) score.
6. Optimising images to rank higher on google
Images are crucial to ensuring that your content is more attractive, engaging and accessible to your readers. They are also important in terms of SEO, so you should always include images within your text. Remember that the ALT attribute (Alternative Text) is the most valuable element of image optimisation!
To get the most SEO power, equip your images with a clear and descriptive name and some appropriate description/keywords.
Example: Use high-quality-website-traffic.jpg name instead of img123_website.jpg
Never add images to your website straight from the camera. Those are usually way too heavy (high resolution and dimensions) and will increase your page loading time.
Ideally, the image size should not exceed 100kB but be careful with compressing an image – you need to reduce the file size and maintain good image quality. A right balance is the key here.
The recommended format for a website-bound image is .jpg, unless you need it to be transparent (.png will work best for that purpose).
Online tools like Optimizilla and CompressNow come in handy if you need to optimise your pictures.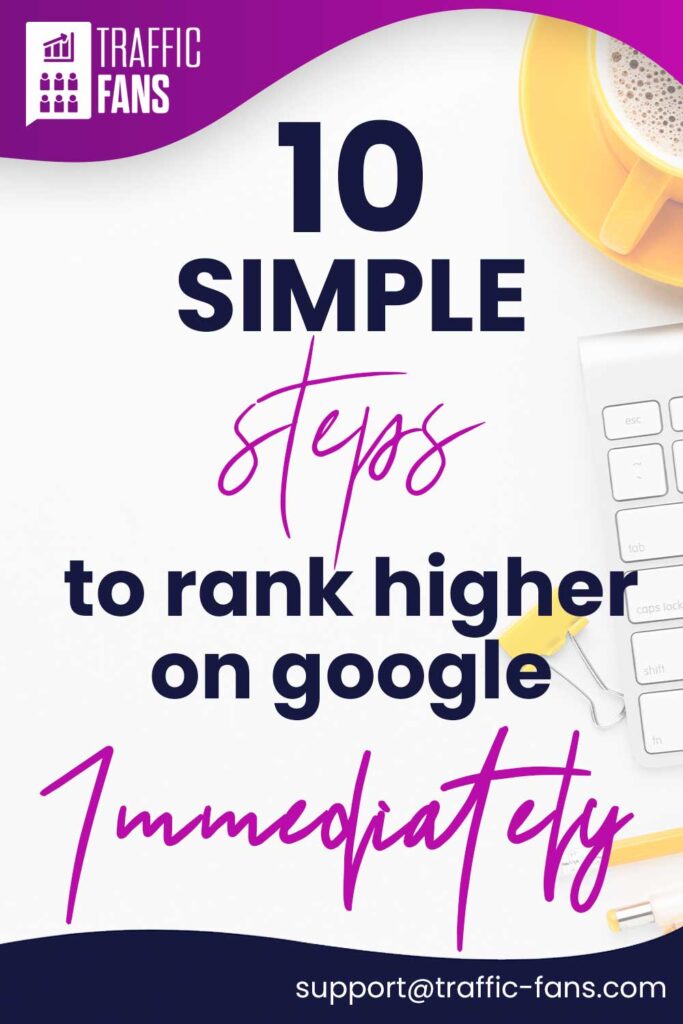 7. Internal links
Internal links are those that connect pages within your website. They enhance your readers' experience, may reduce the bounce rate and help search engines discover more of your website's pages. And are 100% "safe" to use.
Your home page should be a bit like your computer's desktop. A place from which visitors can discover and move on to its most important elements – its pages. It is important that links to those pages are there and are easy to find.
Other pages should also link to each other. When creating content – make sure to link to at least one other page of your website. This way you will create a user-friendly website structure and guide not only your readers but also search engines to the most valuable pages.
8. Inspect your URL
Register your website with Google search console and run the URL INSPECTION to make sure that nothing is preventing search engines from indexing your website. If there are any issues, Google will indicate its source and advise you how to fix it.
9. Encourage sharing on social media
Yes, you can get your SEO improved if people share links to your content on social media. To make your content easy to share include social sharing icons on all your posts. Remember that each share could drastically increase your content's reach without any additional work on your side.
10. Use free YOAST plugin for WordPress
If you're running a WordPress-based website, YOAST is the number one must-have plugin. It won't magically bring you to the top of the search results but it will help you properly optimise your website for search engines. It will also motivate you to optimise your content every time you add new posts or pages to your website.
YOAST lets you define SEO titles and descriptions for each part of your website. It also highlights any and all SEO mistakes that you make and shows you how to address them.

And that's it!

If you apply the above suggestions to your website and content, you are GUARANTEED to improve your SERP position and begin your path to the top of those search results.
Please keep in mind that no SEO activity will magically beat your competition and bring you to the top overnight. It requires a lot of work and consistency but the results are well worth it!
We hope that this guide will help you on your path to SEO mastery. If you enjoyed it, please check out our other posts HERE.
Thank you and good luck!